Frame Facade Scaffolding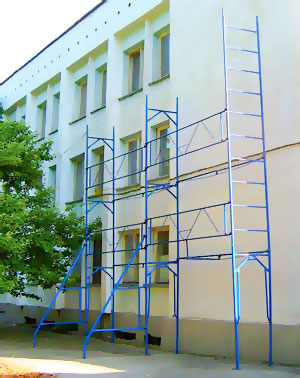 The Facade Scaffolding has a tubular frame construction. It is designed to be used in any facade rapair works, indoors repairs, insulation, or various other construction works.
The main characteristics of the scaffolding are:
Width of the working stage - 0,74 m.
Made of highly resistant frames sized 2,5m./0,74m. and 2,0m./0,74m.
Build from steel tubes St37-2 (DIN) sized 42x2,5.
Developed with extra reinforced outer frames.
Assembling and disassembling are easy, fast and convenient.
There is no limitation in the scaffolding lenght.
Height - 8 m.
The working stage can be either made of steel or wood.
The construction is offered with either paint or hot zinc cover.
The scaffold is to be anchored to the building.
Quality certified by TÜV.